Laser Lipo Treatments in Libertyville, IL
Non-Surgical Laser Lipolysis
Non invasive
Powerful results
90% Satisfaction
Research Proven Results
No recovery time
Best results with a low calorie diet and exercise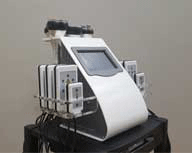 Clinical studies show that Laser Lipo has results comparable to those achieved through liposuction surgery. There is a 30% reduction in the fat layer depth after just 6 treatments, and more can be achieved through more sessions. As the fat cell contents are released and excreted through the lymphatic system, immediate results can be seen after the treatment. It is reco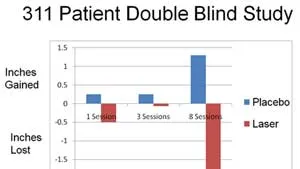 Mechanism of Action:
Low level laser devices have been well documented over the years for their role in biostimulation at the cellular level. While this has been used in pain relief, publications such as Solarte et al, Laser induced lipolysis on adipose cells have well documented the use of laser devices on fat cells. The publication further states that a 635 nm laser alone is capable of releasing triglycerides through the cell membrane.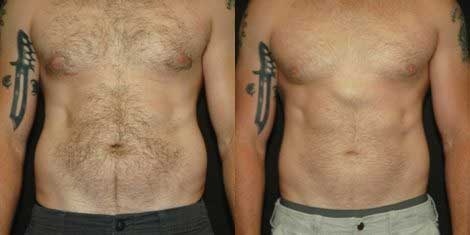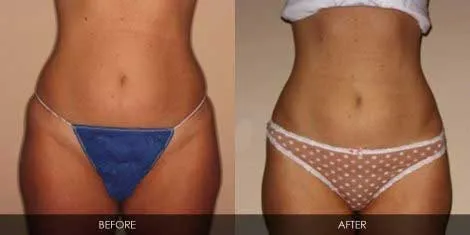 Where does the fat go?
Laser Lipo treatments result in the liquefaction of fats, the liquefied fat is then drained through lymph drainage. The effectiveness of fat drainage during and after treatment is dependent on proper functioning of the lymphatic system, which is responsible for removing wastes from the body.
What results are typical?
Male and female clients have found that those hard to reduce trouble spots, such as love handles, tummy bulge, and saddlebags can be treated quite significantly within just a few treatments.
How is Laser Lipo different from other contour treatments?
There are other devices on the market that use ultrasound or radio frequency treatments, or the invasive type liposuction treatments. The Laser is completely non-invasive, and the cold red laser cannot be felt or heard, making the treatment extremely relaxing, quick, and effective. The Laser Lipo also uses two applicators that assist with lymphatic drainage to assist the body in flushing the fat and waste. Low level laser is often used for cell regeneration and pain relief so there are other benefits to this type of treatment that other devices do not deliver.
Is it safe?
The Lipo Laser is very safe. In fact, the initial purpose of low level laser technology was for pain relief and cell regeneration for healing. A clinical trial demonstrated that modifying the frequencies and output was effective for fat reduction and after continued studies it was discovered that low level laser therapy was a safe and effective indication for body contouring and spot fat reduction.
Can the laser improve my abs?
More of our clients come in to treat their abs than any other part of their body. It's not so much weight loss, but inches lost. While the waist and hip size goes down, so does their trouser size.
What areas can be treated?
Treatments are effective for use on the back of the arms, the upper and lower abdomen, chin/neck and jowls, knees, upper and lower back, inner and outer thighs, buttocks, love handles, and the male chest.
Pre Treatment Protocol:
Prior to having Laser Lipo you should follow a low fat/low carb diet and drink at least 2 liters of water 24 hours before your treatment. For 3 days following your treatment, you should continue to drink 2-3 liters of water a day.
A low carb diet is highly recommended 24-48 hours before treatment.
Please wear cotton clothing such as shorts and a t-shirt. No metal (including Bra under wire). Sports bras or swim suit tops should be worn instead. We must be able to see the area we are working on.
Post Treatment Protocol:
To best maximize the effectiveness of your treatment, it is best to have only one cup of coffee a day for the next 72 hours, low sugar, no alcohol, and at least 30 minutes of cardio activity.
We recommend doing the cardio activity after your treatment.
Avoid any high fat meal for 24 hours after treatment for best results.
Warning:
PLEASE NOTE: You must be a healthy, qualified candidate to receive Laser Lipo treatments. You are NOT a good candidate if you are pregnant or nursing, if you have large metal implants near the treatment area, or if you have any serious medical condition such as uncontrolled diabetes or high blood pressure, heart disease, liver or kidney failure, epilepsy, a pacemaker or other electronic devices, etc. If you are in doubt as to whether you can receive treatments, please consult your physician first.
Cost Per treatment and pack
1 session = $90.00
Good to see if any reaction to treatment
6 session package @ 75 per = $450.00
Best for 1 area
12 session package @ 65 per = $780.00
Best for larger reduction in 1 area or 2-3 areas
24 session package @ 55 per = $1,320.00
Best for whole body and maintenance…
Recommended treatment 2x a week minimum and 3x a week for optimal results
Non-surgical laser lipolysis is available by appointment only
Libertyville Wellness Group
1785 Northwind Blvd,
Libertyville IL 60048
Phone: 847.996.0007
Fax : 847.996.0009
Email: info@libertyvillewellnessgroup.com