Meet the Doctor
Dr. Brian Kelchen grew up in a home where chiropractic care was part of his life since he was three years old. Dr. Kelchen played all sports in high school and received chiropractic care for sports injuries of various kinds. In college, Dr. Kelchen played football and track and field and with the numerous hits and falls he suffered, Dr. Kelchen's chiropractor and his staff got me moving again so he could rejoin his team and keep playing. Dr. Kelchen experienced first-hand the recuperative power of adjustments and muscle therapy.
Spending long hours concentrating on his studies in college always gave him headaches and chiropractic care helped him with those as well. All of Dr. Kelchen's personal experiences with chiropractic led him to join the profession that had helped him for so long. Dr. Kelchen knew that he wanted to help others just like him.
Dr. Kelchen graduated from Palmer College of Chiropractic in Davenport IA. This was the start of his career as a chiropractor. Dr. Kelchen has helped a lot of patients with back, neck, and extremity related problems over the years. One that stands out in Dr. Kelchen's mind is a 40 year old mother of two who came into the clinic with severe knee pain. She had already had surgery on the other knee with little improvement in symptoms. After a few weeks of treatment, she was out walking and even playing tennis with no pain in either knee. She continues to do well today.
Dr. Kelchen's goal is to educate people on the power of chiropractic and help them reach their optimal level of wellness. Dr. Kelchen is here to enable people to get better. It does not matter what age, sex, or fitness level you are at. Dr. Kelchen is dedicated to helping you feel better through chiropractic care. Dr. Kelchen looks forward to helping people in Libertyville and surrounding communities for years to come. Please call Libertyville Wellness Group and we will start you on a new path of wellness.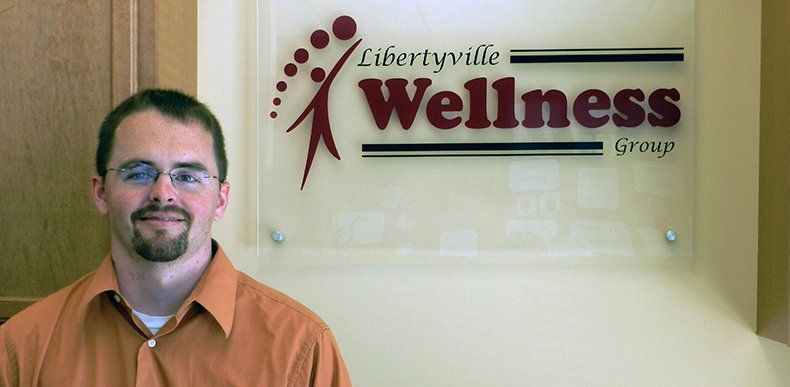 Call Libertyville Wellness Group today for your appointment.
Patient Appointment Hours
Mon - Thu
8:00 am - 12:00 pm
2:00 pm - 7:00 pm
Friday
8:00 am - 12:00 pm
2:00 pm - 6:00 pm
Saturday
8:00 am - 12:00 pm
Sunday
Closed